January 15, 2020
Sign and share CSBA's Full and Fair Funding petition to support California's public schools. Opt-in to receive texts about important education events and developments by texting CSBA4Kids to 52886.
Budget workshops begin Jan. 21 following release of state budget proposal
Beginning Jan. 21, CSBA will partner with Capitol Advisors, the Association of California School Administrators and others to present the 2020 Budget Perspectives Workshops. This series of 23 free statewide workshops offers a deep dive into Gov. Gavin Newsom's initial 2020–21 state budget — a massive $222.2 billion total spending proposal that comes with an $84 billion Proposition 98 guarantee and invests $900 million each in special education and teacher preparation. The budget proposal also begins the process of revamping California's model for special education funding and again focuses heavily on early education. Contrary to expectations, however, the budget does not add additional money to address school employer pension contributions beyond the $3 billion-plus invested in 2019–20.
"We applaud Gov. Newsom's responsiveness to the concerns of elected school board members and his attentiveness to the important issues facing our public schools," CSBA President Xilonin Cruz-Gonzalez said in a statement following the release of the proposal. She added that, "(CSBA) will continue to work with the Governor to help secure the more dramatic investment in public schools needed to grapple with California's education funding crisis."
2020–21 budget proposal resources: Register for Budget Perspectives Workshops | Details of 2020–21 proposal | Video statement from CSBA President Xilonin Cruz-Gonzalez | Facebook Live video with Dennis Meyers of CSBA Governmental Relations | Governor's budget summary
Pair of LCFF transparency bills introduced in early stages of legislative year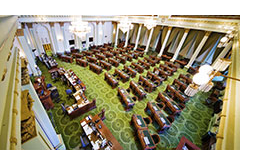 Last week, Assemblymember Shirley Weber (D-San Diego) introduced a pair of measures intended to bolster transparency in Local Control Funding Formula spending and amend certain provisions regarding unspent LCFF funds. Assembly Bill 1834 would require the California Department of Education to develop a tracking mechanism for local educational agencies (including charter schools) to report how supplemental and concentration grant funds are being spent; AB 1835 would require unspent LCFF funds from the prior year to be devoted directly to serving unduplicated counts, rather than be rolled into an LEA's general fund. Both bills have been introduced in response to last year's report on LCFF spending from the State Auditor. CSBA does not have a formal legislative position on either bill (or any other bills introduced thus far in 2020) but is engaged in discussions with the author on provisions of the bill. The Legislature has until Feb. 21 to introduce new legislation for 2020, with policy committee hearings on new bills likely to begin in March. Follow 2020 legislative news and bill information »
State Board adopts new LCAP template; free upcoming training at CSBA
The State Board of Education adopted a streamlined new Local Control and Accountability Plan template at its Jan. 8–9 meeting in Sacramento. The template, which officials said should be easier both for local educational agencies to complete and use and for stakeholders to understand, is the fourth template revision in six years and will be used for the 2020–21 through 2022–23 LCAP cycles. Changes should reduce the length of most LCAPs by about half, California Department of Education staff said. Learn more about the new LCAP template »
As part of the LCAP template's rollout, CSBA is hosting a free training for members in West Sacramento on Monday, Feb. 24. The event will help school board members understand the new template and instructions so they are better prepared for their work reviewing and approving LCAPs this spring and in subsequent years. Space is limited, and registration is open through Thursday, Feb. 20. Learn more and register »
Department of Education presents comprehensive report on students with disabilities
At this month's State Board of Education meeting, California Department of Education staff presented the state's 2018–19 annual performance report for Part B of the Individuals with Disabilities Education Act. The report provides data on the status of California's students with disabilities in 17 required federal indicators as required for submission annually under the IDEA (a number of the indicator categories overlap with the California School Dashboard). The 43-page executive summary offers valuable insights not only into performance indicators but into the demographics and disability types of the 795,047 students from birth to 22 years old who received special education services from LEAs in the 2018–19 school year. View the report »
Registration remains open for fast-approaching NSBA Advocacy Institute
The registration window is still open for the 2020 National School Boards Association Advocacy Institute. The upcoming event will be held from Feb. 2-4 at the Marriott Marquis in Washington, D.C. Attending school board members from across the country will have the opportunity to gather on Capitol Hill to help shape the decisions made at the federal level that directly impact students. Event keynote speakers include Washington Post columnist and MSNBC political analyst Eugene Robinson and political advisor Mark McKinnon. Informational sessions will be held Feb. 2 and 3, with the "day on the Hill" for school board members on Feb. 4. Find more information and registration details »
---
Comprehensive performance audits for your district's bond funds
CSBA believes that a performance audit of bond funds should be comprehensive enough to assess the best use of taxpayer money and provide recommendations for improvements based on best practices in procurement and construction. CSBA partners with Total School Solutions in providing comprehensive performance audits to assist our members in improving their bond-funded facilities programs. Please contact Susan Lendway or call 707-422-6393 to request a proposal for your performance audit. Learn more »
---
California School Boards Association | 3251 Beacon Blvd., West Sacramento, CA 95691
Phone: (800) 266-3382 | Fax: (916) 371-3407
Website | Privacy Policy