October 9, 2019
Sign and share CSBA's Full and Fair Funding petition to support California's public schools. Opt-in to receive texts about important education events and developments by texting CSBA4Kids to 52886.
Legislative Update: School facilities bond, charter school bills signed; start time legislation awaits action
While several education-related bills still await action from Gov. Gavin Newsom, several significant bills have been signed in recent days. On Monday, the Governor signed Assembly Bill 48 (O'Donnell & Glazer), the Public Preschool, K-12, and College Health and Safety Bond Act of 2020, which places a $15 billion school facilities bond on the March 3, 2020 ballot — if passed, K-12 education would receive a total of $9 billion in facilities bond funds.
Last week, Gov. Newsom signed into law AB 1505 (O'Donnell, D-Long Beach) and AB 1507 (Smith, D-Santa Clarita), the former making a series of sweeping changes to charter school authorization and oversight processes; the latter amending laws regarding the location of charter school resource centers. CSBA is supportive of both bills and will work with the author and key stakeholders of AB 1505 in 2020 on a few remaining implementation issues. A third CSBA-supported charter school bill, AB 967 (Smith), which would have applied current processes governing LCAP development to charter schools, was vetoed on Oct. 7. In his veto message, Gov. Newsom wrote that charter school reforms made in the 2019–20 state budget (which include public hearing and meeting provisions, and requirements to post LCAPs online), should be "given a chance to work before these additional requirements should be considered."
An additional bill vetoed on Tuesday was AB 773 (Gonzalez, D-San Diego), a CSBA-supported voter education bill, which would have required school districts to implement voter education programming for 12th-grade students as part of an assembly. In his message, the Governor touted recent efforts by the state to increase voter turnout and stated that, "rather than imposing a prescriptive requirement that imposes a one-size-fits-all requirement on each high school, I would prefer that the Secretary of State and the Superintendent of Public Instruction continue their coordination to help register and preregister young people to vote."

Gov. Newsom also signed AB 1353 (Wicks, D-Oakland), which shortens the probationary period for classified employees from one year to six months (or 130 days of paid service, whichever is longer). CSBA, along with ACSA, CASBO and others, opposed the bill.
The CSBA-opposed Senate Bill 328 (Portantino, D-La Cañada Flintridge), which would prohibit every non-rural middle and high school in the state from beginning the regular school day before 8 a.m. (middle schools) or 8:30 a.m. (high schools), still awaits the Governor's action before the Oct. 13 deadline.
CSBA Board of Directors votes to suspend membership in National School Boards Association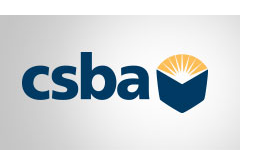 Over the last year, CSBA's Board of Directors has discussed its relationship with the National School Boards Association and the many concerns that have permeated the relationship over the last eight years, such as the state's inequitable representation in NSBA's governance structure and NSBA's lack of support for policy issues of importance to California. Foremost among those grievances is NSBA's continued business practice of competing with services provided by the state school board associations that compose its membership. This practice infringes on CSBA's ability to serve California school districts and county offices of education to the highest degree possible. Given this, CSBA will suspend its membership in the National School Boards Association effective July 1, 2020. CSBA's membership in NSBA will remain inactive until NSBA satisfactorily addresses concerns about establishing new products and services that compete with those offered by its members — state school board associations. Read CSBA's letter to membership »
Research report and event examine district continuous improvement strategies
As California's local educational agencies strive to boost student outcomes by way of continuous improvement, a new research analysis of the state's eight CORE districts explores which conditions best support that continuous improvement in districts and schools. Through its research partnership with CORE Districts, Policy Analysis for California Education this month released and presented a report, Learning and Practicing Continuous Improvement: Lessons from the CORE Districts. Accompanying the report are in-depth case studies of two districts and an elementary school, providing leaders statewide with examples of continuous improvement in action. Read more on the CSBA Blog »
---
Register and be inspired at Annual Education Conference's new Spotlight Luncheon
Attendees of CSBA's 2019 Annual Education Conference and Trade Show can add to their experience by registering now for an inspirational new Spotlight Luncheon featuring Natalie Stavas, Boston Marathon hero, humanitarian and award-winning physician. Stavas was about to finish the 2013 Boston Marathon when bombs detonated at the finish line. Instead of running away with the crowd, she ran toward the chaos and saved four lives. The luncheon will be held from 11:30 a.m.–1 p.m. on Thursday, Dec. 5. Learn more and register »
Californians Together event will focus on supporting immigrant and refugee students
Registration is now open for a Statewide Convening for Support for Immigrant and Refugee Students presented by Californians Together on Thursday, Nov. 14, from 9:30 a.m.–2:30 p.m. at the Consulate General of Mexico in Sacramento. The free event is for leaders from professional education and school-related organizations and will provide attendees with an update on recent immigration policy changes and their impact on schools and families; highlight efforts to maintain a focus on the needs of California's immigrant and refugee students; and share resources and tools to support the creation of safe and welcoming schools. The registration deadline is Nov. 4. Register for the event »
GASB reporting solutions for public agencies with fewer than 100 members
The GASB Alternative Measurement Method program helps districts and county offices that offer non-pension retirement benefits to comply with Governmental Accounting Standards Board Statements No. 68, No. 74 and No. 75 at a fraction of the cost of a full actuarial valuation. If your public agency has less than 100 "plan members," it may be eligible. Learn more »
---
California School Boards Association | 3251 Beacon Blvd., West Sacramento, CA 95691
Phone: (800) 266-3382 | Fax: (916) 371-3407
Website | Privacy Policy