June 5, 2019
Sign and share CSBA's Full and Fair Funding petition to support California's public schools. Opt-in to receive texts about important education events and developments by texting CSBA4Kids to 52886.
Annual Education Conference and Trade Show registration and housing now open
Register now for CSBA's premier event, the Annual Education Conference and Trade Show. Set in sunny San Diego from Dec. 5-7, 2019, AEC features inspiring talks from education experts and leaders, continuing education workshops to help governance teams from districts and county offices of education improve student learning and achievement, a trade show and unparalleled networking opportunities. Whether you are a veteran board member, a superintendent, a board support professional or a first-time attendee, you'll find inspiration, practical ideas and a renewed commitment to help your board accomplish the critical work ahead. As a reminder, your local educational agency must renew its CSBA membership for 2019–20 by Sept. 15 in order to attend the conference — but you can register for AEC at any time. CSBA appreciates the support of its members and looks forward to seeing you in San Diego! Register today »
Special education spotlighted in new, comprehensive CSBA report
Special education plays a critical role as schools strive to increase equity and boost achievement for California's 6.2 million public school students. To help guide this work, CSBA has released The Landscape of Special Education in California: A Primer for Board Members, a new report that provides an extensive look at the state's special education system. As evidenced by 2018 California School Dashboard results, many districts are struggling to meet the needs of this diverse student population. In order to improve the educational experiences of students with disabilities, governing board members must understand the complex array of laws, regulations and funding sources involved in special education. Read the report »
CSBA CEO & Executive Director Vernon M. Billy weighs in on California teacher strikes
As part of The Sacramento Bee's California Influencer series, CSBA CEO & Executive Director Vernon M. Billy penned an op-ed for the paper regarding what he refers to as the "Year of the Teacher Strike." In the piece, Billy cites the underfunding of California public schools as the root cause of this unrest: "If California funded schools simply at the national average, funding would increase by nearly $2,000 per student. For a school of 500 students, that's an additional $1 million for expanded curriculum in science and the arts, class size reduction, student services, support staff, parent and community engagement, career technical education, textbooks, supplies and extracurricular activities." Read the full op-ed »
Legislative Update: Policy committee hearings resuming this month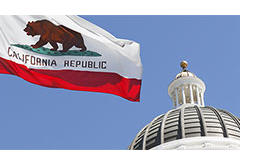 Friday, May 31 was the deadline for both the Senate and Assembly to hear bills introduced in their own houses. This week, policy committees in both houses begin the process of hearing bills passed by the other house and will have until July 12 to hear all legislation.

Three key CSBA co-sponsored bills — Assembly Bill 39 (Muratsuchi, D-Torrance), AB 428 (Medina et al) and AB 751 (O'Donnell, D-Long Beach) — were passed by the Assembly last week and are now in the Senate awaiting hearing, while Senate Bill 328 (Portantino, D-La Cañada Flintridge) the CSBA-opposed bill prohibiting middle schools from starting before 8 a.m. and high schools from beginning classes before 8:30 a.m., passed the Senate and is in the Assembly awaiting a hearing in the Assembly Education Committee. There is now a bit more clarity about the 2019 package of charter school legislation as bills head into June and July policy committee hearings. Read more about the bills making their way through the Legislature »

The Budget Conference Committee continues its work this week of consolidating the 2019–20 budget proposals into a single budget that will be sent to Gov. Gavin Newsom on or before June 15.

In last night's elections to fill two seats in the California Senate, Democrat Lena Gonzalez garnered 69 percent of the vote over Republican Jack M. Guerrero to fill the Senate District 33 seat (vacated by Ricardo Lara) in L.A. County; while in Northern California's Senate District 1 (formerly held by Ted Gaines), Assemblymember Brian Dahle (R-Bieber) topped Asm. Kevin Kiley (R-Rocklin) after Asm. Kiley conceded the race late last night.
Try CSBA's new Online Learning Center for free through June 30
Continuous learning is a journey, but you shouldn't always have to travel for professional development. Thanks to CSBA's new Online Learning Center, you will soon be able to access a wealth of material on public school governance from any desktop or laptop with an internet connection. In advance of a widescale launch later this year, we're inviting members to preview two learning modules in the demo Online Learning Center. The learning modules now available at http://learning.csba.org are:
     ● Powerful Summer Learning Programs
     ● CSBA Strategic Budgeting and Planning Utilizing the Smarter School Spending   
        Approach (includes content from partner PIVOT Learning)

We encourage you to take a test drive of the site before its official launch, which is currently scheduled for July. Just use the email and password you use to access other CSBA products and services to log in. Start your trial now »
Submit your 2019 Legislative Awards nominee
CSBA is now accepting nominations for the 2019 Legislative Awards program. The awards recognize members of the California Senate and Assembly, as well as members of Congress, who actively work to improve public schools, support local school board governance and demonstrate legislative leadership. Any school district or county office of education may submit a nomination for a legislator who represents their local educational agency. Nominations are due by Thursday, Sept. 5. Learn more and make a nomination »
Coverage you need to ensure student and district safety
Accidents happen. Are your students covered? To help members best address insurance-related issues, CSBA has joined forces with California's leading provider of student accident and sickness insurance. Myers-Stevens & Toohey is a full-service administrator based in Southern California that has worked closely with public K-12 schools for over 35 years. CSBA's sponsored catastrophic injury coverage is affordable and can be extended to cover all school activities including travel to and from home and school. Learn more »
---
California School Boards Association | 3251 Beacon Blvd., West Sacramento, CA 95691
Phone: (800) 266-3382 | Fax: (916) 371-3407
Website | Privacy Policy