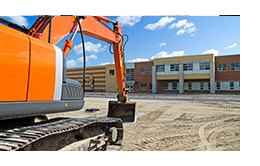 On Tuesday, Aug. 14, CSBA placed an open letter to California's gubernatorial candidates in major newspapers across the state asking them to release the $7 billion in facility bond funds approved by voters in 2016 through Proposition 51. Many California students go back to school this week and, unfortunately, some of them return to inadequate school facilities. Two years after the approval of Proposition 51, only 20 percent of the promised funds have been made available to school districts and county offices of education, hardly making a dent in the backlog of more than $3.5 billion in approved construction and modernization projects at the Office of Public School Construction. The letter appeared in the Los Angeles Times, Sacramento Bee, San Diego Union-Tribune and the Bay Area Newspaper Group papers including the East Bay Times, Marin Independent Journal and San Jose Mercury News. A San Francisco Chronicle article on the issue featured commentary from CSBA President Mike Walsh as well as CSBA Delegate and Fremont USD Trustee Ann Crosbie. CSBA members can help spread the word by sharing the letter on social media and using the hashtag: #ReleaseSchoolFunds. Read the letter »
On Friday, Aug. 10, CSBA filed a lawsuit challenging provisions of the 2018–19 state budget. Those provisions allow the state to manipulate the constitutional formula which determines the funding California's public schools receive. If the unconstitutional provisions are allowed to stand, they could eventually reduce public school revenue by three-quarters of a billion dollars annually. Read the press release »
As discussions surrounding Gov. Brown's proposal on wildfire liability continue with fervor at the Capitol, CSBA has sent a coalition letter (co-signed with the Association of California School Administrators, Los Angeles Unified School District and Coalition for Adequate School Housing) to the Legislature's Conference Committee on Wildfire Preparedness and Response. The letter addresses the impact of California's wildfires on public schools and urges the Legislature to broach the issue with a more in-depth and thorough policy discussion that takes those impacts into account. With the current legislative session ending on Aug. 31, the letter argues that there is not ample time for the issue to be properly addressed and for the needs of school districts and county offices of education to be considered in current discussions.

Current law governing "inverse condemnation" states that utilities can be held liable for damages caused by wildfires linked to their equipment, even if proper safety procedures were followed. However, the proposal being weighed by the conference committee — which would not apply to fires which occurred before Jan. 1, 2018 — would amend inverse condemnation assurances and direct courts to "balance the public benefit of the electrical infrastructure with the harm caused to private property and determine whether the utility acted reasonably." Without those assurances, affected schools could be left to pay for wildfire damages on their own. Read the letter »

With two weeks to go in the 2018–19 session, the fate of several bills will be determined tomorrow, Aug. 16, when the Senate and Assembly Appropriations Committees hear their suspense files; CSBA will report the results of the suspense hearings tomorrow upon conclusion.
CSBA's Nominating Committee met on Aug. 10, to paper screen the Declaration of Candidacy Packets submitted on July 9. The following candidates will be interviewed on Saturday, Sept. 15. Candidates for President-elect: Xilonin Cruz-Gonzalez, Azusa USD. Candidates for Vice President: Suzanne Kitchens, Pleasant Valley SD; Gregory Krikorian, Glendale USD; Alisa MacAvoy, Redwood City ESD; Carol Mills, Fresno USD; and Tamara Otero, Cajon Valley Union SD.
A free water testing program for schools launched in January 2017 has only been used by about one-third of California's public schools, according to a new San Francisco Chronicle investigation. Lead contamination has been linked to neurological disorders and impaired cognitive ability. Typically, exposure to toxic metals in drinking water comes from older fountains, faucets and rusty pipes that have corroded and then mixed into the water supply. Schools constructed before Jan. 1, 2010, are required to test their water supplies for lead levels by July 1, 2019, under Assembly Bill 726, which went into effect Jan. 1 of this year. Read more on CSBA's blog »
CSBA, in partnership with McPherson & Jacobson, L.L.C., offers Executive Search Service to provide districts and county offices of education with a streamlined process to meet their executive hiring needs. From identifying possible candidates to the selection of a qualified superintendent, Executive Search Services offers an extensive and comprehensive process that guides the board through this critical time with ease and professionalism. Learn more »
---
California School Boards Association | 3251 Beacon Blvd., West Sacramento, CA 95691
Phone: (800) 266-3382 | Fax: (916) 371-3407
Website | Privacy Policy